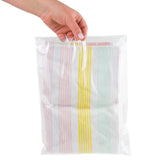 Retail Supply Co
Clear Poly Bags - Self Seal - Combo Pack - 6x9", 8x10", 9x12", 11x14"
POLY BAG COMBO PACK: 400 piece set - 100 each of 6x9 inch, 8x10 inch, 9x12 inch and 11x14 inch sizes. These polybags are made of very strong plastic that won't rip and are 1.5mil thick (38 micron). Protect your merchandise from poor warehouse conditions including dust, dirt and moisture. Do not settle for lower quality bags with weak seals that leave your items at risk.

PERFECT FOR AMAZON FBA SELLERS: Meets Amazon's approved strict packaging requirements for merchandise to be stored in their warehouses. They make great bundle bags for private labeling or retail arbitrage. The bags are see-through and perfect for scanning barcodes that are inside.

STRONG SELF-ADHESIVE SEAL: The plastic polybags have a 1.5" (3.8cm) folding flap with a strong self-seal. Easily and securely close these storage bags using the quick peel and seal adhesive strips that ensure your products are safe. No heat sealers required. Choose between resealable or permanent (extra strong) glue seals. The resealable glue allows for reopening and reusing the bags, while the permanent glue is the ultimate in protection and cannot be opened without ripping or cutting the bag.

NOTE REGARDING SIZE MEASUREMENTS: Please take into account the thickness of your product when determining the size you require. To determine width requirement: Add the Width of product (inches) + Thickness of product (inches) + ½ inch. To determine length requirement: Add the Length of product (inches) + Thickness of product (inches) + 2½ inches. The correct polybag size must be at least the calculated size for BOTH dimensions.