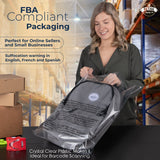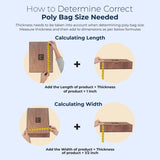 Retail Supply Co
Poly Bags - Suffocation Warning - Self Seal - 16x22"
PACK OF 200 CLEAR POLY BAGS WITH SUFFOCATION WARNING: Choose from our large range of size options and combo packs to fit all of your packaging needs. Polybags are transparent and self-sealing with warning written in English, Spanish and French. Made of very strong 1.5mil thick (38 micron) polypropylene plastic (PP) that provides an extra clear, crisp look.

STRONG SELF-ADHESIVE SEAL: Choose between resealable or permanent (extra strong) glue. The resealable poly bags allow for reopening and reusing, while the permanent seal is the ultimate in protection and can't be opened without ripping or cutting the bag.

SUFFOCATION WARNING: Printed on the side without the 1.5" flap. "WARNING: To avoid danger of suffocation, keep this bag away from babies and children. Do not use in cribs, beds, carriages or playpens. This bag is not a toy. Discard bag and any other packing materials immediately after removing product."

PERFECT FOR AMAZON FBA SELLERS: Meets Amazon's approved strict packaging requirements for merchandise to be stored in their warehouses. They make great bundle bags for private labeling or retail arbitrage. The polypropylene bags are crystal clear and allow for scanning barcodes that are inside.

NOTE REGARDING SIZE MEASUREMENTS: The thickness of your product determines the size you require. To determine width: Add the Width of product + Thickness of product + ½ inch. To determine length: Add the Length of product + Thickness of product + 1 inch.